Drivers Education is offered through a certified private instructor and held at Fruitland High School. There is no set schedule for when these classes begin and end. Dates are set by the instructor and Fruitland High School has no control over them.
Driver Education – Additional Information
This page will give you the options and instructions for what to do when the FHS Driver Education Class is full or does not fit your schedule.

In order to take any driver education class, the student must meet all attendance requirements and not have any outstanding fees or fines.
IDLA Driver Education Online
This class is offered by Idaho Digital Learning Academy and fills up approximately 6 weeks prior to the start of the class. The student is required to make arrangements for driving instructions to be done simultaneously to the class portion. Please review the flowchart below for instructions to enroll in this course. (NOTE: If the FHS class has space available AND the IDLA class begins at the same time, the school MAY offer a student to take the IDLA class and drive with our instructor. This is usually not known until we know if the class will have space available).

Students may not use the FHS driving instructor but must locate their own certified instructor and provide written documentation from that instructor prior to being enrolled in the IDLA class. We are unable to recommend instructors. You will need to get a list from the DMV.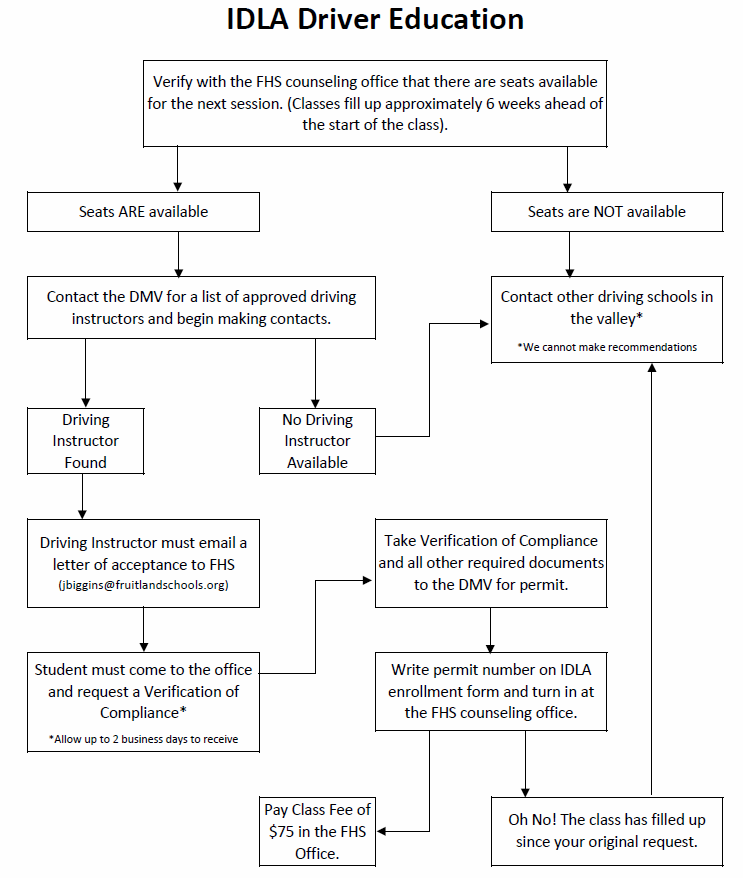 There are a handful of driving schools in the valley that can be found with a quick online search. Be aware that online programs such as DriversEd.com and other online resources may not be approved by the State of Idaho. Please contact the DMV directly for a list of approved schools and instructors prior to making payment.
Once the student is enrolled in the class, the student must come to the office to request a Verification of Compliance letter and give the name of the school/instructor. Please allow up to 2 business days to get a verification of compliance letter.
Sign-up for FALL session is NOW CLOSED! The next session will be in the spring.
Click on your choice for that application form and further information.
Limited to 26 students total (from FHS or FPA) Fee is $125. Classes will be on Tue & Wed at 6:30 am
Limited to 10 students total (from FHS or FPA only) Fee is $175
Criteria to apply for either class – If you don't meet all criteria, do not apply.
Age: Student must be 14 1/2 years old on or before the first day of class. (Incoming Freshmen students, regardless of age, must wait until the Summer class after the 8th-grade year to apply).

Grades: Must not be failing any classes at the time of class selection. AND must have passed all classes the previous semester.

Attendance: Student must be on track for less than 8 absences in any class. If too early to determine this, the principal will make this decision based on current attendance, the attendance of the previous semester, and discussion with the student and/or parent. The student must not have more than one truancy in any class.

Fees: All past due fees/fines must be paid in full. (Including if taking a drivers ed class online or privately). This includes amounts due in the office, library, cafeteria, band, or other club/activity.

Non FHS Students: Students who do not attend a Fruitland district school will only be admitted if all Fruitland students have been accepted and there are remaining open spots in the class.

Homeschool* students: Those who reside within the Fruitland district will be treated as a Fruitland student. Documentation of homeschool status and proof of residency may be required.

Forfeiture: Students who fail to purchase their permit and pay their class fee by the due date or who do not attend the first class will be immediately withdrawn from the class and the next person(s) in line will be contacted.

IDLA Students:

If you are taking Driver's Ed through FHS, but taking the classroom portion through IDLA, the sequence of events is as follows: 1) AFTER receiving your acceptance letter, go to DMV to purchase student's permit, 2) fill out the IDLA registration form, with the permit number written on the top, 3) bring the completed IDLA registration form (with permit number) and payment to the HS office.

If you are NOT taking Driver's Ed through FHS, students will not be allowed to enroll in the online driver's education class without written verification from a driving instructor. The permit must go to the driving instructor, not FSD. Students may not use the FHS driving instructor but must locate their own certified instructor and provide written documentation from that instructor prior to being enrolled in the IDLA class.
*Idaho regulations state "Students enrolled in a home-education program must have been enrolled in the program for at least one school year prior to the verification of attendance request unless documentation can be provided for meeting the attendance requirement for the school year immediately prior to the year in which you are enrolled in the home education program. When your parents sign the liability statement, they must also sign a statement that you are in compliance with the school attendance provisions of Idaho Code."
These tests IN NO WAY count towards class fulfillment or actually acquiring your driver's license.